Custom Owner Statements for Every Owner. Share as much or as little information with your owners as you want to on your statements. When we say custom, we mean custom.
Rentvine is the only property management software that allows property managers to create multiple, custom owner statements. We have found that many customer service issues occur because of confusing owner statements. Give your owners the information they demand.
Show Information Each Customer Needs
Your customers are different, and owner statements are not one size fits all. Rentvine helps you deliver perfect customer service to you clients. 90% of your owners will be satisfied with one standard statement but for those other 10% create additional custom statement settings to meet those particular owner requirements. Simply turn each module and option on or off!
Easy Customization for Large Portfolios - Consolidate your data!
Consolidate rents and management fees for your bigger portfolios. No need to show dozens of individual management fees and rents received from multiple tenants in multiple units. Unless you want to!
Add Multiple Custom Reports to Statement Packets
In addition to custom statements, property managers can provide their customers with multiple custom reports in each statement packet.
Getting Started with Statement Modules:
---
Where do I edit my owner statement settings or setup additional owner statement settings?
All owner statement settings are available in your global settings. Think of these statement settings as templates, each with different module options selected, controlling how future statements are generated. Statement settings can be applied to each portfolio individually.
If you do not see the option to update statement settings please check with the account owner as to your access level.
Simply click anywhere on your profile name or image to pop open the tab to access account settings. Click on Settings.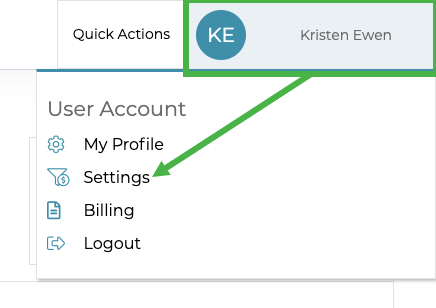 Click on "Statements" under Accounting Settings. If you do not have access to this setting please contact the account owner.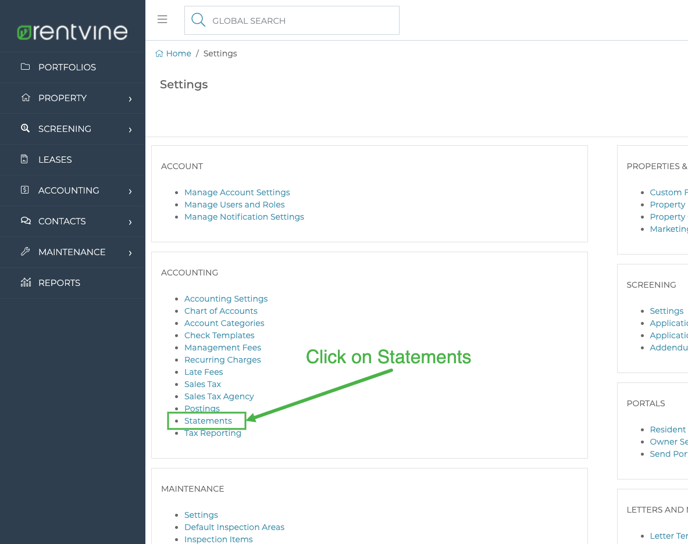 Multiple Statement Settings
This will return a list of ALL statement settings within your account. You can choose to view/edit an existing statement by clicking on the statement name or create a new statement by clicking the new statement setting button at the top right of the screen.
**If you edit an existing statement setting it will update the settings for all portfolios that are currently setup to receive that statement going forward. This is a global update. This only affects future statements.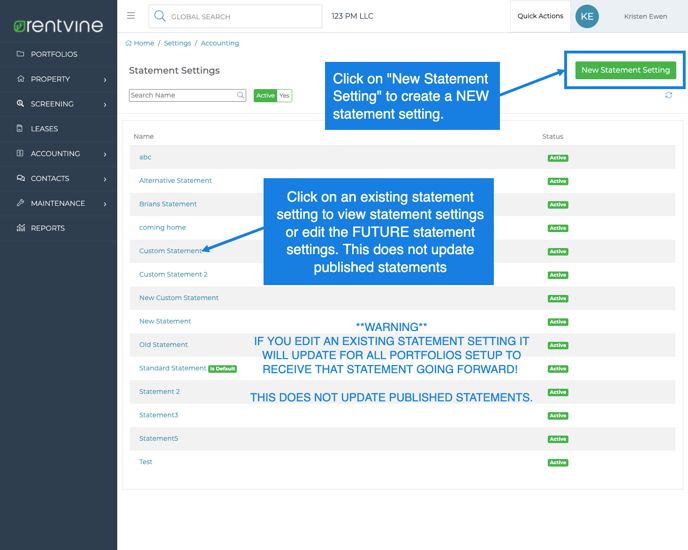 Create a New Statement Setting
If you choose to create a new statement setting, please give it a name that will help identify that statement setting. Click "Save" to generate the statement settings default and begin your customizations!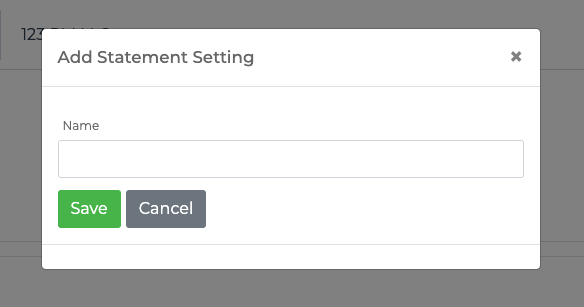 Click on the "Edit" button to begin customizing your statement setting.

---
Completed Work Orders and Paid Bills
The first option in the statement settings allows you to control if the owners are able to see COMPLETED work orders or PAID bills. As always these items are optional. Simply toggle the individual options on and off.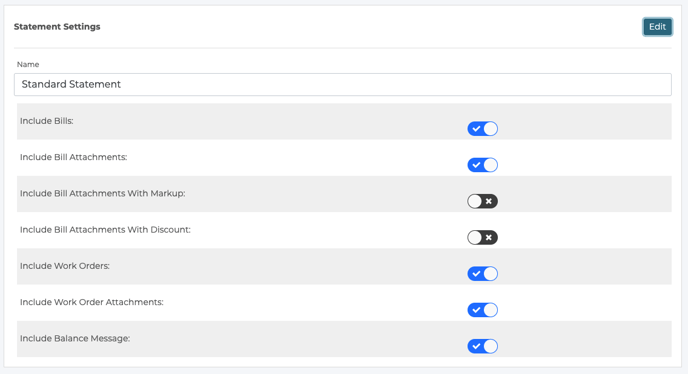 Changing these settings will affect any upcoming statements. Changing the settings will not update existing generated or published statements.
Example Completed Work Order: Example Paid Bill: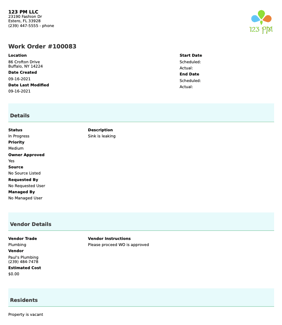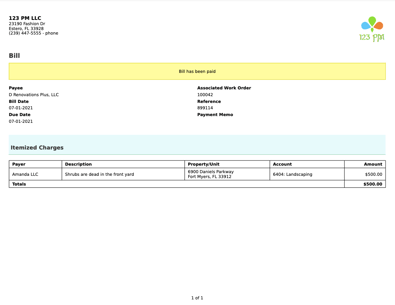 Include Paid Bill Attachments and Completed Work Order Attachments
You can also choose to include any Paid Bill Attachments or Completed Work Order Attachments. Work order attachments may include documents uploaded by tenant to the work order from the portal. Paid bill attachments may include vendor invoices.
Markups and Discounts
Choose if you would like to include attachments with markups or discounts. If you suppress these items from the owner we suggest you do not include them on the statement settings.
Criteria for Documents to be attached:
Bills must be PAID
Work orders must be COMPLETED
Attachments do not need to be "Shared with Owner" to be attached

Statement Packet
Example Statement Packet including Additional Customer Reports, Completed Work Orders, Paid Bills and Attachments. Each item is a PDF that can be viewed, downloaded and printed as needed.

---

Summary Page Module
The summary section is optional. This is a great overview for owners to help them understand their portfolio activity, balances and payout.
Choose to show or hide unpaid bill balance and work order estimate balance.
"Break After Module" is a page break. If you toggle this option to on, it will have only the summary on the first page. Additional modules start on the next page. This option shows in each module.

What does the summary module include?
The summary module was designed to resemble a bank statement which is something that most owners should be comfortable with and understand how to read. The statement summary module allows you to share beginning balances, income, expenses and adjustments. Clearly show the amount of the owner distribution, and any reserves being held. This summary identifies to the owner how much money they will receive and how that amount was calculated.
Need to hold additional reserves for upcoming work orders or unpaid bills? The summary will show those reserved funds and the reason for the additional reserve. Additional reserve notes will be included with a ** below the reserves section.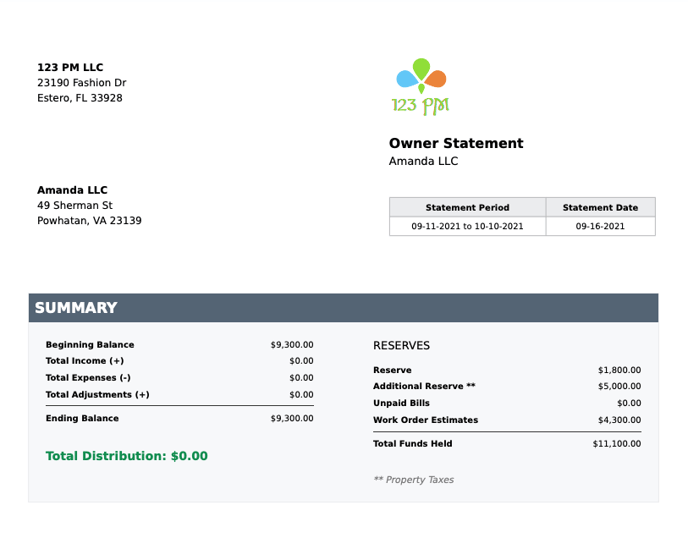 The summary module is broken into a few important sections. The summary balance shows, for the statement period, the beginning balance, any income, expenses, adjustments and the ending balance. This number may not match the distribution amount, in green.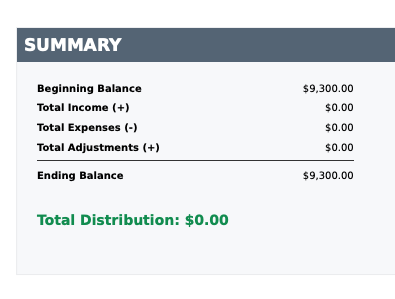 The Total Distribution Amount takes into consideration any additionally held reserves which you can choose to show or hide lower in the statement.
The total distribution amount shown in GREEN will match the check, e-check, or fund transfer to the owner.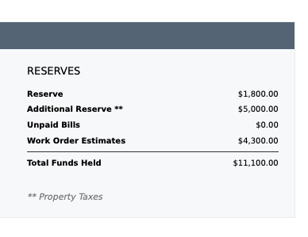 Show Multiple Reserve Categories
In addition to your normal reserves, Rentvine allows you to create additional reserve categories for anything from taxes to remodels. Also show reserves for unpaid bills and open work order estimates. Any additional reserves will show below as a note ** Property Taxes
This yellow warning appears when portfolio balance goes below reserve amount. This takes into consideration unpaid bills. Notify the owner of funds needed to bring the account back to required reserve including unpaid bills if any.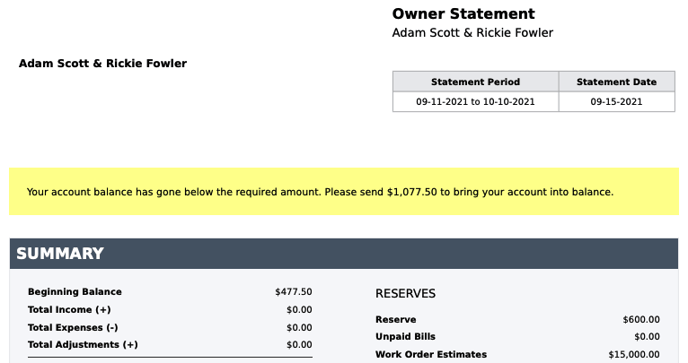 ---
Tax Summary
Tax summary is typically used for year end reporting to show total taxable income. Choose if you would like to include prepayments in this statement setting.

---
Transaction Summary Module
Show owners a summary of all income, expenses and adjustments. Show the amount and ending balance. Choose to show "Year to Date" or restrict the information to the date range of the statement that is generated. The summary is a high level view showing all transactions by type for the entire portfolio.

Example Transaction Summary:
There is a black line showing 1 of 3 that is a break in the page.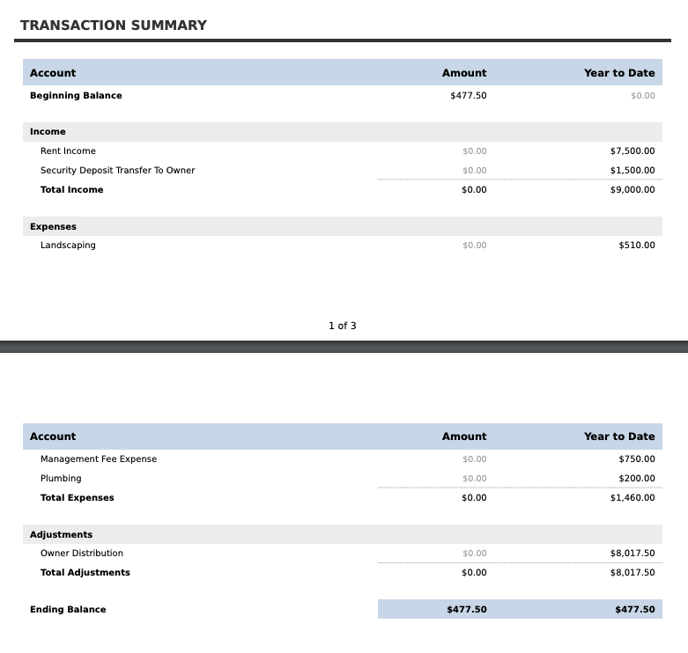 ---
Transaction Details Module
Show owners transactions details for every portfolio, property, and unit in their account. You choose whether to consolidate items based on owner preference.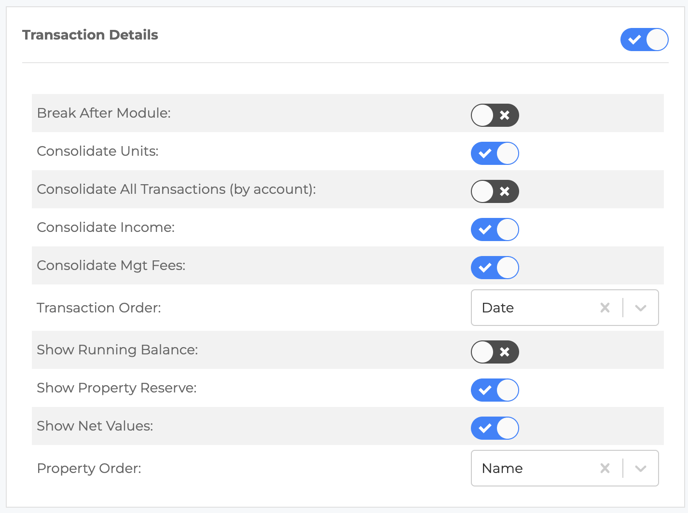 Consolidations
Consolidations allow you to choose how granular you would like to get within the owner statement. Some owners would like to see all of the data broken out by units, income or management fees while others with multiple properties or units would rather see only the totals for the statement period.
Consolidation Options:
Units
All Transactions by GL / Chart of Account (Typically used for Year End type statements)
Income
Mgmt Fees
Transaction Order:
This allows you to select the order in which the transactions appear in the statement. Date is the default order setting.

Options for Transaction Order:
Show Running Balance:
This setting will show the increase and decrease with each transaction. Keep this option off to see only starting balance and ending balance.
Show Property Reserve:
Choose to show or hide the property reserve.
Show Net Values:
Net change for each unit on the portfolio balance. There is also a "Statement Net" shown before the ending balance.
Property Order:
This allows you to select the order in which the properties appear in the statement. Name is the default order setting or you can select number.
Example Transaction Details Module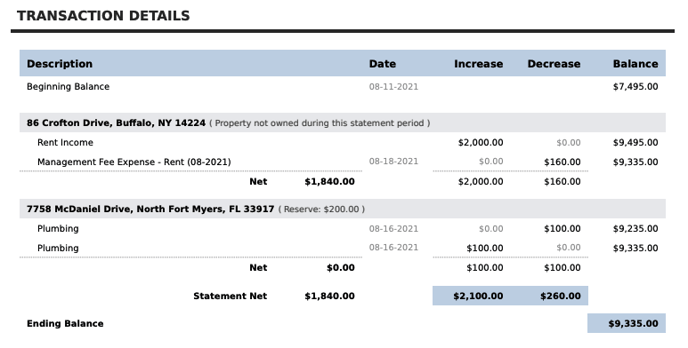 ---
Open Work Orders
If you want to, you can show your owners any open work orders so that owners will always know what to expect on future statements. These estimates will account for additional reserves on the portfolio seen in the summary module.

Example Open Work Order Module

---
Unpaid Bills
If you want to, you can show owners their unpaid bills and why the funds are being reserved. This can help to clear up any questions owners may have in regards to the summary module showing additionally held reserve amounts.

Example Unpaid Bills Module

---
Managed Units
This is essentially your "Rent Roll." This module shows owners current rent, security deposits withheld and current lease start and end dates for every unit in their portfolio. As always, this section is optional. Unit balance, tenant names and lease move-in date are optional.

Example Managed Units Module

---
Notes
Need to provide your owners with additional notes that you have made throughout the reporting period? Enable the notes section to display notes shared with owner from various sections of the software. Notes must be shared with owner to appear in the statement.
Share with owner anywhere. Click three dots to share with owner. Note that was CREATED within the statement date
range will be shared with the owner. Date can be modified to show on a different reporting period.
Changing this date to the past will NOT update existing or previously published statements.

Example Notes Module:
Notes that are shared with the owner will appear with the date posted. Please be sure to include information about the property or object in the note if the owner has more than one property.

---
Statement Packets: Include Multiple Custom Financial Reports
Attach any custom report that you would like to your owner's statement packet. Always deliver the information that your customers demand, automatically.
Add Additional Reports to Statement Packet
In the upper right section of the statement settings page click on the Add button next to Reports.

Select the Report to Include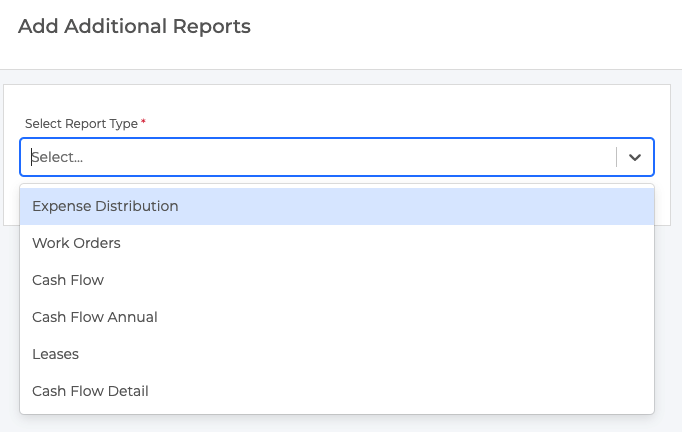 Example Statement Packet:
Owner statements are available in the portfolio --> Statements tab. Click on a date range to view that statement packet.

The statement packet will show each individual report as well as any work orders, attachments, bills or bill attachments IF enabled in the statement settings

---
Statement Preview
Create statements without publishing them if you would like. This allows you to review or spot check your statements for accuracy before your owners see them. If you are confident in your statements, you can create and publish with one click.
---
Auto Delivery
When your statements are ready and published, your owners receive notification that their statement packet is ready and in their portfolio. Send one or all of your statements automatically.
---
Don't Forget to Save Your Changes!