This section will show you how to set up late fees and also charge them automatically
To set up Late Fees do the following:
Select your Name in the top right corner to get the dropdown menu then select Settings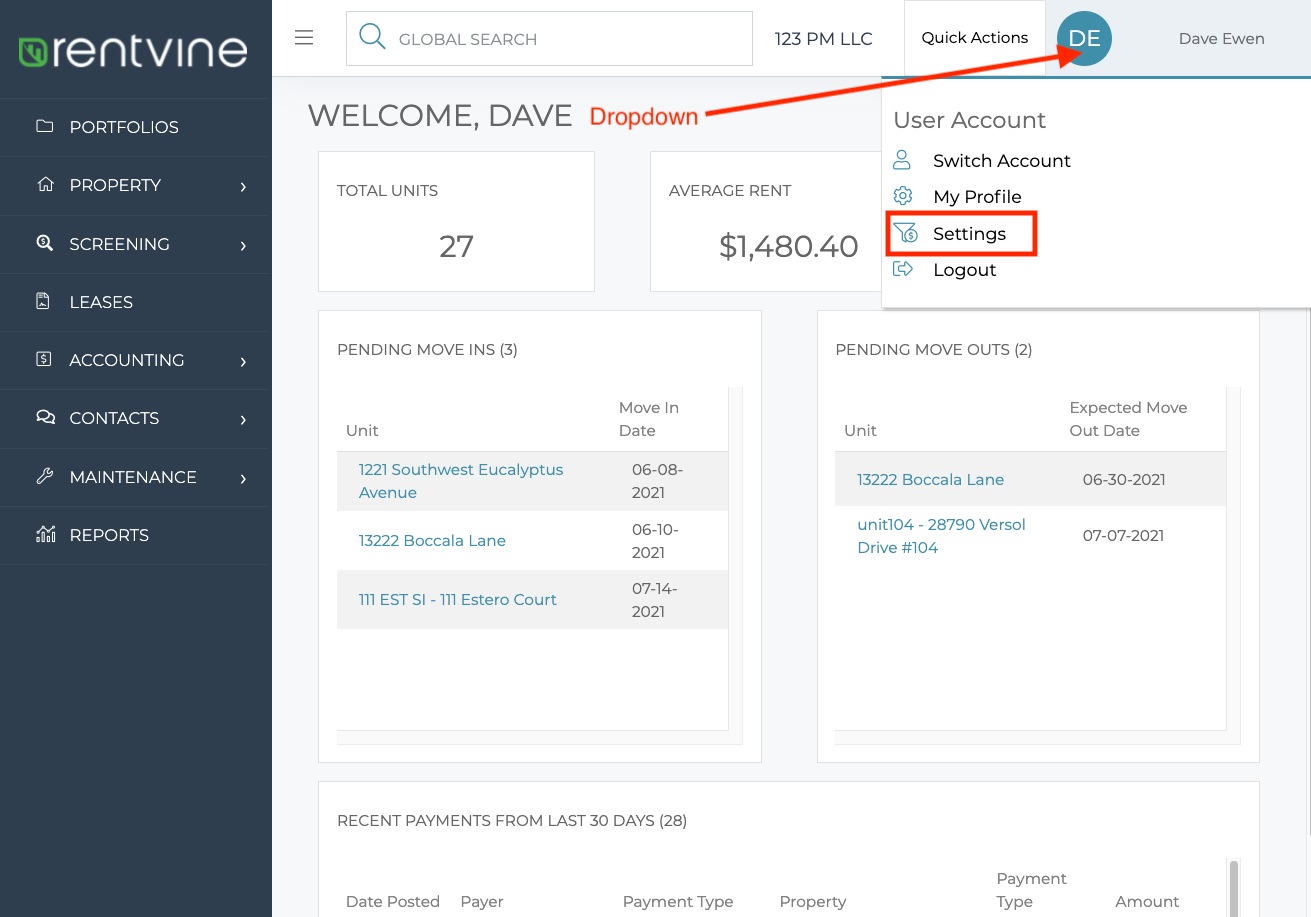 2. Find the Accounting section in the settings and select Late Fees
3. Choose
New Late Fee
and create a title for your late fee
Initial Late Fee Type - Set up the type of late fee you want whether it is a Flat fee or a Percentage based fee
Initial Late Fee Amount - The amount (Flat amount or percentage) you want to charge once the Tenant is considered "Late" *this date is set up at the bottom of this setting page
Daily Late Fee - You can set up a daily late fee on top of any initial late fee charge set *this is optional
Maximum Late Fee - You are able to set the maximum amount you want to charge in total. *This is a combination of any initial, percentage, or daily charge. Choose none if it doesn't apply
Grace Balance Amount - If you specify an amount here it means that the lease/tenant has to owe more than the amount specified in order to trigger the late fee. *i.e. If you specify $200, the tenant must owe more than $200 to trigger the late fee.
Listed on the bottom of the Late Fee Setting is a section where you are able to specify how many days and hours after the posted charge date is an unpaid charge considered late.

In order to Auto Charge Late Fees you may set this up by doing the following:
Select your name in the top right corner to get the dropdown menu. Then select Settings
2. Find the Accounting section in the settings and select Accounting Settings

3. Once in the Accounting Settings, find the Lease section and select Edit in the top right corner of the lease card
4. Find the
Auto Charge Late Fee
toggle switch and turn it on. Then click
Save