Distribute rental listings to all of the most relevant rental listing sites. Real time property marketing on your website too!
Rentvine helps you market your rental vacancies to all of the right places through our syndication network.
---
Property Syndication
Reach over 90% of actively looking Residents with just a few clicks.
IF all of your property data has been entered correctly, the listing will by activated, show on your website and be entered into any selected syndication. These syndication networks also have a list of additional network partner sites that the listings will be filtered to. The entire syndication network includes about 100 different websites.
Syndicate property listing to our rental network, including:
Zillow
Hotpads
Trulia
FreeRentalSite
Rentalsource.com
Rentals.com (You must have an account setup with rentals.com)
Distribute to All the Best Rental Sites. Simply enter all of your data once, and share it everywhere that matters, automatically.
Some sites require payment to advertise, such as Zillow and rentals.com
Not all data will transfer to all sites, and some sites have photo limits.
Some sites require up to 72 hours to list and/or delist rental listings.
---
View Activate Listings
To view your active listings click on the Marketing tab under Properties.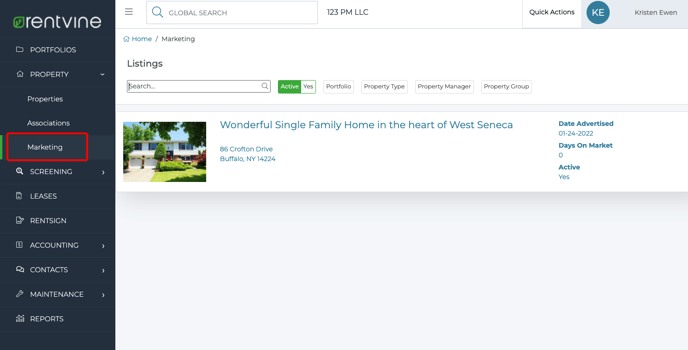 Click on the property to get more details. You can also access the property marketing by going to the marketing tab on the property itself.

IF you property is already active, you will see all of the relevant marketing information.
Date Advertised
Days On Market
Syndication Settings

---
Activate a Listing:
To activate a listing, click on the marketing tab for the property or unit then click Activate Listing.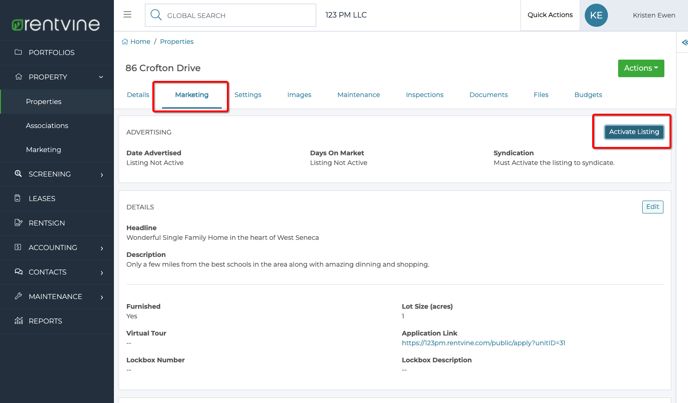 Choose your syndication settings for this property or unit. Click Activate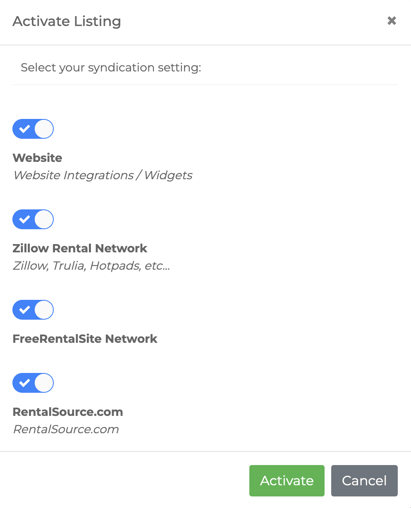 ---
Property Marketing Details
The property details section requires a Headline for the listing and a description.
Property Headline should be short, eye catching and informative *Required
Longer, more detailed property descriptions will give the prospective tenant a better idea of what to expect from that property before a showing. Be sure to include all relevant information so that your agents are not spending time showing the property to tenants who are unsure of what the property has to offer. *Required
Mark the property furnished or unfurnished
Enter the lot size. Currently the only option is in acres.
Add a virtual tour link. Youtube, vimeo and Matterport are some of the most commonly used formats for virtual tours.
If you are using Rentvine applications the APP url will already be populated. This can be changed if you are using a third party provider.
If you are using Rently as a showing provider please enter the lockbox Number.
Add a description to the lockbox if applicable.

---
Property Lease Details
Lease details for a property are to describe the length of the lease, the availability date, and to add a description to the security deposit. These are all optional fields but they are important pieces of information for the tenant.

Enter the availability date. If the date is in the future, the date will show as entered. If the date is today or in the past, it will show as Immediately.
Lease Description should describe the length of the lease and any special or extraordinary terms that the prospective tenant should be aware of.
Security Deposit Description allows for more details if an exact security deposit is not listed on the property.


---
Marketing Contact *Required
The marketing contact information is required for all listings. Please be sure to enter the primary contact name, phone and email address. This is the most commonly missed piece of information and will cause an error if not entered. The secondary contact is optional.

---
Area Information
This section allows for a description of the area. It is great to include shopping plazas, major highways, and other landmarks. Provide prospective tenants from outside of the area with more information about how to get around and what there is to do.
School information is important to prospective tenants with children or for college students.

---
Restrictions
Enter the property or unit restrictions for pets, smoking and housing assistance.
Pets - Choose yes or no for Cats and Dogs. Enter a pet description - No Aggressive Dog Breeds, or limit 2 cats, etc.
Accepts Smoking and Accepts Assistance are both yes or no options.

---
Parking
Provide the prospective tenant with information about parking for this property or unit. Type of parking is open text so that you can be descriptive. ie: Attached Garage or Street Parking Only
Spaces is a number field looking for the total number of parking spaces provided. If describing a two car garage, enter the number 2.

---
Utilities
Enter what utilities are included or not included with this property or unit. Enter the type of heat, such as forced air, radiant, baseboard, etc. This field is free form text so that it can be accurately described.

---
Property Features
Select any features that are included in this property or unit. The features /amenities are broken up by category. The categories include:
Kitchen
Flooring
Rooms
Amenities
Outdoor
Community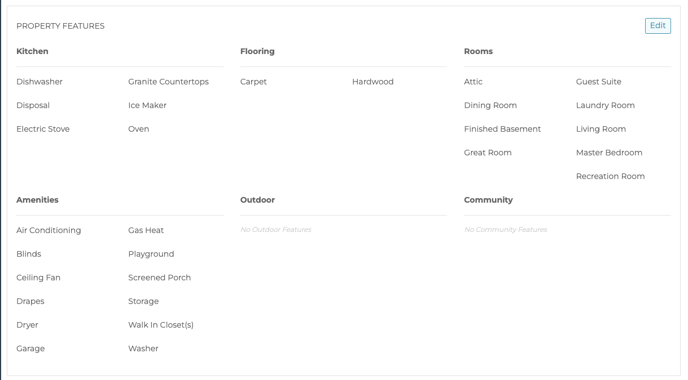 Each Category will have a list of features. There will also be the option to add additional features. If a feature is created on a property or unit, that feature will then be available to all properties or units within your account so you do not need to add it multiple times.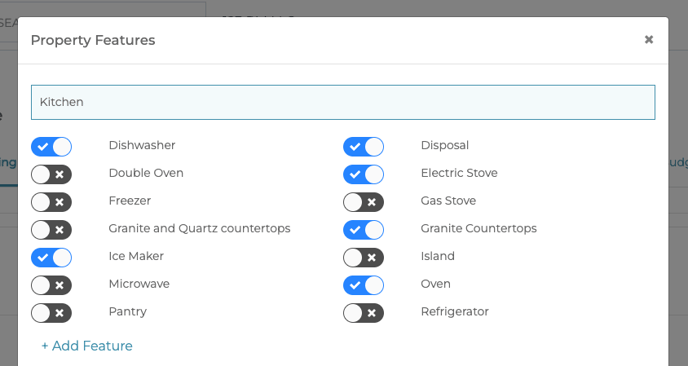 Toggle the options, blue (checkbox) is yes, black (x) is no. When the features for this property or unit are correct, click the save button at the bottom of the list.
---
Custom Fields
Custom Fields can be set on a LISTING so that they appear in the marketing options. Go to settings, custom fields, then click on Listing. Create a group and then enter the fields that you would like to have for marketing your properties and units. See below example of custom fields for listings.
**Custom Fields can be anything that is important to you to track. Please note that most syndication partners have a distinct set of fields that they accept. Custom fields will not be included with most syndication.

---
---
Marketing Documents
Upload any additional documents that need to be provided to the prospective tenant. This is NOT the location to add marketing images. This is for disclosures, marketing flyers, etc.

---
Marketing Images
All marketing images should go in the property or unit images tab. Drag and drop images in the order you would like them to appear.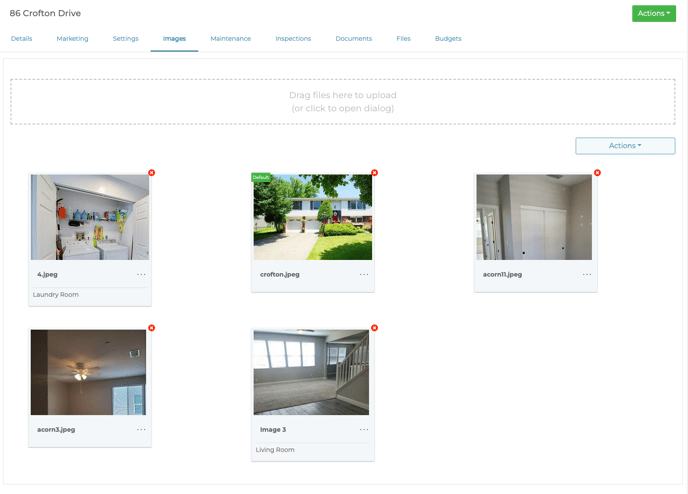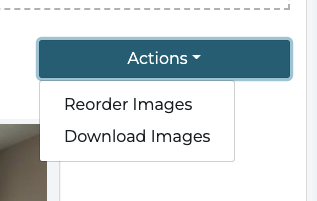 Reorder Images: Click the blue Actions bar. Select Reorder images. Drag the images into the order in which you want them to appear.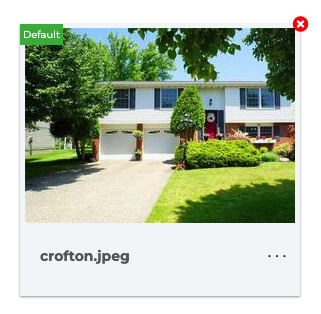 Default image: This will be the primary image for the property and the image that shows in the property list view on your website. To change primary image hover over the image and select Set Default. The default image will have a green Default note in the top left corner of the image.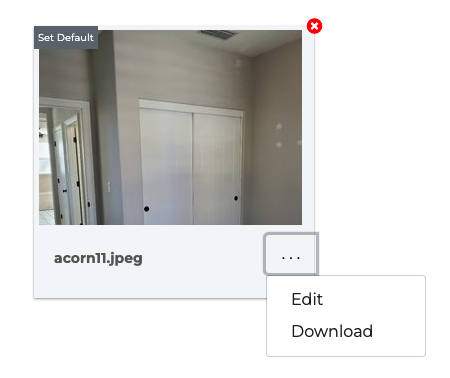 Edit the image:
Click on the ... ellipse next to the image name and select edit.
File name and Caption may be changed.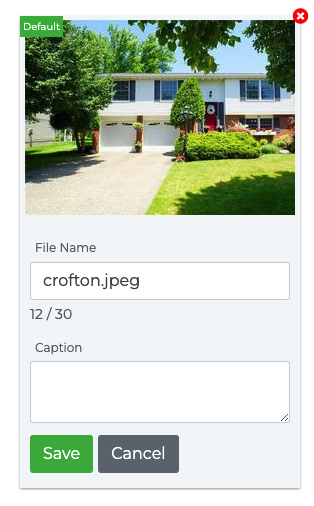 Delete: To delete an image select the red X in the top right corner of the image.
HEIC file types: Coming soon to Rentvine there will be a converter to turn HEIC image files into JPEG files.