Do you want to notify the payees when you are sending payment to them using a NACHA file that you have uploaded to your bank? This article will show you how to send those notifications.
Rentvine does not automatically notify payees of payment if you are paying them by using a NACHA file. If you want to notify the payees follow the steps below:
Once you have downloaded the NACHA file from Rentvine and uploaded it to your bank for processing you will want to go back to the payment batch page that you downloaded the NACHA file. From there click on the green Action button and select Send NACHA Notifications.
You should see a successful message that the notifications will be sent.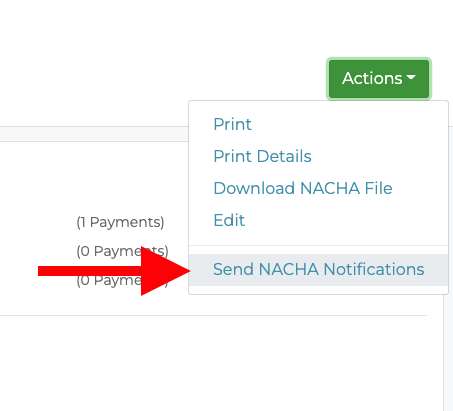 You can view a list of payment batches in the Money Out section. You can get there from the left navigation menu by selecting Accounting / Money Out and clicking on the Payment Batches tab.