This article will show you how to record a cash, check, or other form of payment from a tenant when that payment is not made through the portal
Go to the "Record Tenant Page"
On the top of the page, click on the Quick Actions menu button and then click on Record Tenant Payment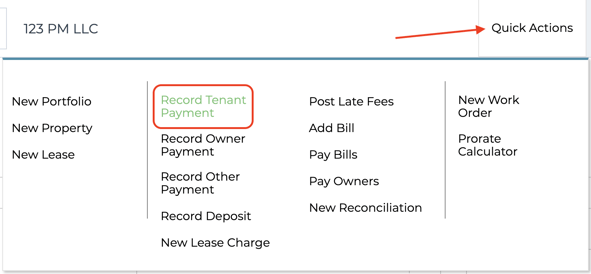 OR
From the dashboard view of Rentvine, click on Leases on the left hand side
On the next screen, enter the Address/Tenant the lease belongs to in the search field
From the search results, click the Lease for which you would like to record a payment
Click the Green Actions Button
In the drop down, click on Record Payment
2. Fill out the form
Enter/Select the Tenant
Enter the Amount of the payment
Enter the Date Posted
Select the Bank Account
Enter the Reference
Select the Payment Type
Enter the Description of the payment
For your reference, you will be able to see any unpaid charges below this section to which you can apply the payment
If you are recording a payment and there are no unpaid charges on that lease, no charges will appear in the section below. The payment will be allocated to the default pre payment account until it is applied to a charge. You will have the choice to choose which charges you would like the system to automatically apply the payment to when that charge is created. It will automatically default to Any which means that the payment will be applied to any charge that is created, but you can change this by clicking the drop down menu and selecting a different charge account. Please note that if you select None, that payment will not automatically be applied to a charge, and you will need to manually apply it to a charge after it is created.

After reviewing, Click the Green Save button at the bottom of the screen or Click the Save and Add Another button to record another payment on the same Lease.